If you've tried to buy a good knife before, you may have seen that Benchmade knives fetch a high price.
You also may have wondered what makes them so special, that they often retail at a higher price than many other knife brands out there.
Today, we're analyzing Benchmade to explain why you should expect to pay more for their products, and whether it's justified or not.
To do this, we're looking at the design of Benchmade's blades, their quality, and their functionality.
Knives that rank highly in all three will be more expensive than others since they last longer and you get more use out of them.
Ultimately, only you can decide if Benchmade's products are worth the asking price. Hopefully, we can shed light on why their knives are priced this way.
DISCLOSURE: DisasterShelters.net is reader supported so if you buy any products featured on this site I may earn an affiliate commission. As an Amazon Associate I earn from qualifying purchases. Read my full disclosure here.
Are Benchmade knives overpriced?
The most common comments made by consumers about Benchmade knives is that they are very costly.
Some people claim that they are overpriced because they cost way more than typically knife brands.
However, there is an explanation as to why Benchmade knives are costly.
Why Benchmade Comes At A Cost
People often forget that a brand is more than a name, logo, and aesthetic.
A company's brand is also its story, its place in the world where the company does business, and how it communicates with its customer base.
With products, we often pay for the brand too. So, let's look at Benchmade and what their story is.
The Benchmade Knife Company was founded 42 years ago, in 1979.
They started as Bali-Song and were the Pacific Cutlery Corporation in the late '80s. Since the '90s, they have been based in Oregon City, Oregon, where they provide most of the city's knives.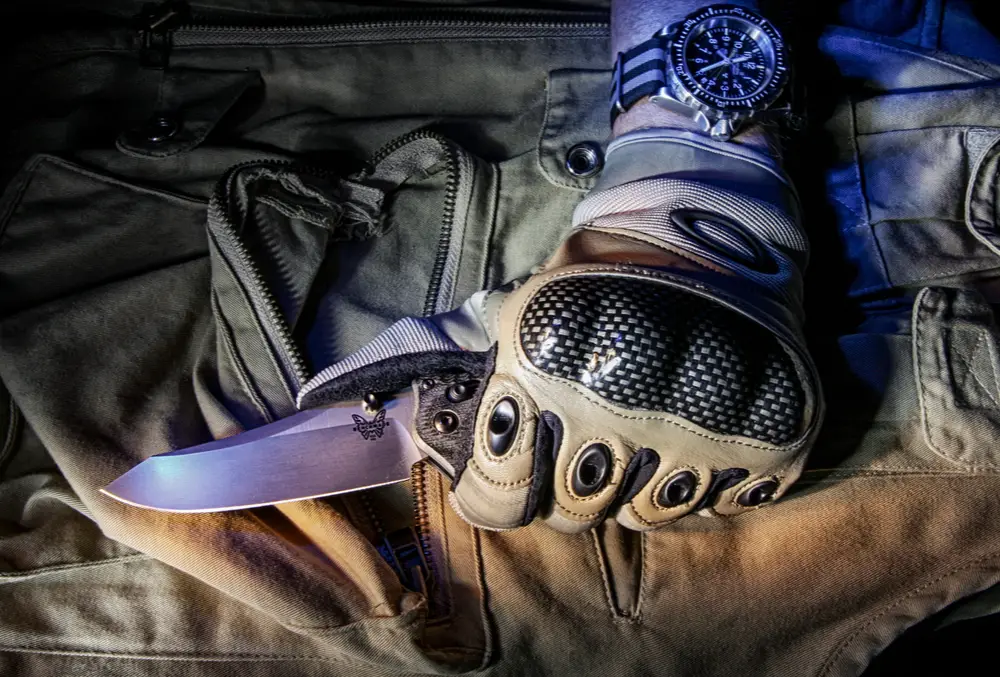 Benchmade is Made In America
Most of their catalog is made in Oregon, so they are often associated with high-quality American-made knives instead of imported products, where the quality may vary.
Their knife catalog is quite expansive. They offer knives for cutlery, everyday carry, outdoor sports, and martial arts training. They also provide blades to be used by law enforcement and the military.
For as expansive as their catalog is, the company works with knife makers who create their own custom knife designs.
During their early years, they were known for making balisong, or butterfly knives as the English-speaking world knows them, and their original design even won awards.
When you combine Benchmade's expansive catalog with prior awards and custom knife design, the brand looks a lot more prestigious, and with that prestige comes a higher price.
Service
Service quality is something that should be considered, too.
If you've seen Benchmade knives for sale, they are likely pre-made knives ready to ship.
However, a visit to Benchmade's own site shows that they make custom knives too (but don't
buy on a site like Wish.com as there's a high chance it's counterfeit)
. You can choose a knife pre-set and then customize it so it's perfect for your intended use.
They also have the knife finder, an in-site browser that takes questions from the potential customer. Then it uses those questions to recommend the best knives for you.
This makes buying specialized cutting tools very accessible for the average person.
Getting a custom knife can be more expensive due to changes that need to be made, just like how tailor-made suits have extra costs.
It should also be said that the website looks great. It is designed well, functional, easy to navigate just by images/infographics, and it looks good on mobile.
As more people shop online through their computers and their phones, that's important.
Production
While Benchmade knives are largely made with automated machinery (and they need to be since their knives are sold worldwide), they use powerful laser cutting machines.
Not only do they guarantee better cut quality for their blades, but it's sophisticated equipment that requires upkeep, so the prices of their products go up.
Being the leader in automated knife-making doesn't come cheap, after all.
But then, as we've said, they also have a reputation for having a human touch with their knife designs.
They employ a workforce who finalize and customize their knives, who all need to get paid when the end of the month comes.
Product Design
That brings us to the design of their products. Being such a large brand, there isn't one design that the company specializes in.
While they used to be known for their butterfly knives, now they offer a multitude of knife designs and styles. The use of the knife will often dictate its style.
Many of their knives have an ambidextrous design, so you can properly hold and wield the blade with either hand.
They won't just fit in each hand; they'll also be comfortable and snug in the hand.
Once the products are made, they are put through their paces by testers.
They are tested for their intended purpose, so cutlery is used for cutting foodstuff while outdoorsman knives are used to cut rope and other equipment.
Quality
Benchmade makes sure that its products are made with the hardest of metals. This means they keep their edge for longer, so their higher price points are because they're an investment into your future.
They also resist corrosion, so you won't ruin the knife by accidentally leaving it outside for an evening.
They also use glass-filled nylon for their knife handles. This material is virtually unmatched in how light it is while still being tough and capable of withstanding high temperatures.
It's thermoplastic, so it won't melt or become brittle when met with arduous climate conditions.
Functionality
As a brand, Benchmade offers unrivaled functionality in the knife-making industry. They offer knives for a wide selection of uses and make sure that all of their products are made to a high quality.
Specialized products come at higher price points.
Victorinox, for example, offers expensive Swiss army knives and other knives that are made for professional culinary standards.
With Benchmade, they offer great knives across every knife category, from household use to technical and combat applications.
With just a cursory glance of Benchmade's knives, you can see that they make a wide variety of blades with different blade edges.
Some of their outdoorsman knives have notches, hooks, and other implementations that help with rope rigging, can opening, etc.
Are Benchmade knives worth the price?
The most straightforward answer to this question is YES.
Benchmade knives are worth the price because they are some of the best knives available in the market.
Their excellent build quality, premium materials, long-lasting and durable elements make them worth it – especially considering they are American made.
I am an independent safety and survival expert and consultant. I have over 15+ years of experience working with corporations and individuals to help identify, remediate and prepare for threats and and disasters. I help clients understand risks and blog about my thoughts and techniques at DisasterShelters.net
Last update on 2023-09-27 / Affiliate links / Images from Amazon Product Advertising API