Matches are an incredibly useful item, letting you light a flame wherever you are.
Better for long use than lighters but less cumbersome than a firestarter, matches are a crucial addition to any toolkit or camping gear, as well as just being useful to have around the house.
But if you're caught out without the box, you might not know how to strike a match.
But don't worry, there are several different ways you can light a match without having the box, including…
Light With Other Matches
Sandpaper
Rocks
With Fingernail
Rough
Building Material
In this article, we'll break down some of the methods for lighting a match with no box, as well as going over what makes them great and what could be better.
So if you're ready, let's get right into it…
DISCLOSURE: DisasterShelters.net is reader supported so if you buy any products featured on this site I may earn an affiliate commission. As an Amazon Associate I earn from qualifying purchases. Read my full disclosure here.
Ways to Light a Match Without the Box
Light With Other Matches
If you have no other sparking surface and need to light a safety match, you might think you're completely out of luck. However, you're actually able to spark a safety match of another match.
With this method, you can light safety matches without the box, which is typically the only place they can strike off.
To do this, simply arrange 4 matches into a 2-by-2 square shape, and twist your safety match in the middle gap. If you press with enough pressure and speed, your matches should light.
Be careful when you're doing this, however. If your fingers are too close to the head of any of the matches you risk getting burned.
Additionally, where multiple matches are being lit at once you'll need to be extra aware of yourself and your surroundings.
Make sure you're being safe if you use this method. While it is a good trick if you're in a pinch, you should always try to find a proper striking surface first.
Sandpaper
Sandpaper is a similar material to the striking surface on most matchboxes, so it makes sense that it would work well as a makeshift striking surface.
Because matches need a high level of friction to light, you have to apply a good amount of pressure.
This can be tricky without good support, so put the sandpaper against a wall or wrap it around a block to make it less flimsy.
If you're using sandpaper, aim for a medium coarseness. A higher grit sandpaper will be easier to strike off of but may end up being too coarse, while a lower grit will need more pressure.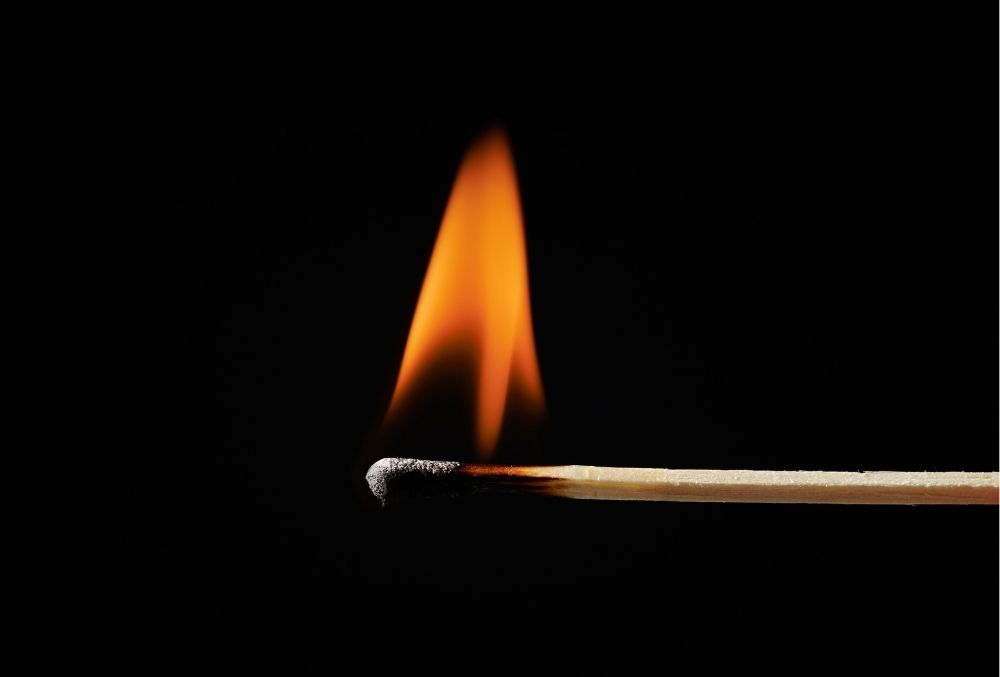 Rocks
Lighting a match off a stone is a great method if you're out camping or hiking. You can find rocks practically everywhere in the great outdoors, so you're sure to find a suitable stone quickly.
You'll need to have a good abrasive surface to generate enough friction to light the match, so try to find a flat but fairly rough stone.
The rock also has to be absolutely dry, otherwise you won't be able to create enough heat.
From there, simply drag the match across in a strong, deliberate motion to light it.
You can also use many common building materials, like concrete or bricks. As long as the material is dry and rough, you can light 'strike anywhere' matches on it pretty easily.
This is great for more built-up areas, where you can light a match on a curb or a wall.
Some windows are even a good surface, though you need to use a lot of pressure and keep your fingers close to the match's head.
With Fingernail
We've all seen the old trick where someone lights a match with a flick of their thumb, but have you ever done it yourself?
This can be a tricky technique to learn, but once you get the hang of it it's a quick and consistent method of lighting a match one-handed. Just make sure that your thumbnail is long enough!
First, you need to hold your match properly. (These instructions are for lighting a match in your right hand. If you're using your left hand, simply swap the directions in the instructions).
Grip it in your index and middle fingers pointing upwards, so it would be parallel with your thumb if you were doing a thumbs-up.
From there, place the edge of your thumbnail slightly to the left of the top of the match.
Try to use the edge just to the right of the tip of your nail, and make sure you're applying a decent amount of pressure.
Now, quickly and deliberately flick your thumbnail forwards and to the left. The friction generated by your nail will spark the match.
This technique only works with strike anywhere matches, and safety matches need a specific surface to light.
It's important to be careful if you're going to try this, as your hand will be very close to the lit match. Be prepared to drop the match straight away if you're in danger of getting burned.
Rough and Building Materials
If you are in a building, you can use readily available materials to start a fire.
You only need to strike the match the same way you would do if you were using the typical box. However, the material has to be wholly dry for the method to be effective.
Some of the building materials you can rub the match on include bricks, ceramic, grout, sandpaper or even concrete.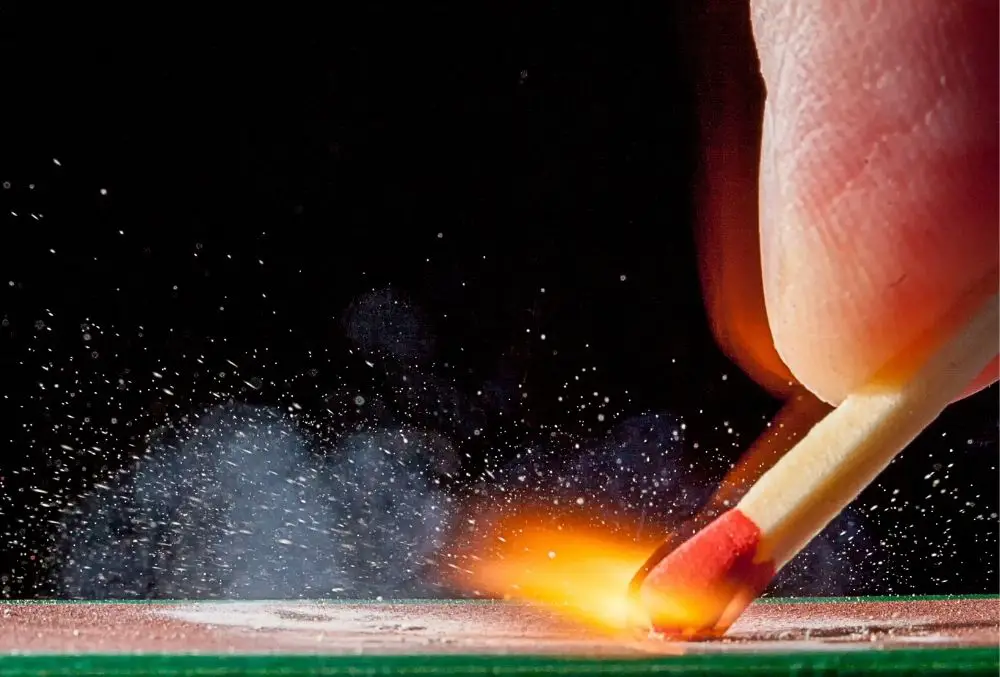 Which Method Is Easiest?
All these methods are effective, and each has its own advantages and disadvantages.
Using a fingernail lets you light a strike anywhere match without needing anything else.
You do need the proper technique and long-enough fingernails to do it, but apart from that it's an easy and handy (pun fully intended) method of lighting a match.
While it can be hard to learn, this trick becomes one of the quickest and easiest methods after some practice.
Striking against other matches is the best way to light a safety match without the box.
However, it is more dangerous than other methods.
Rocks need to be completely dry and have an appropriate surface to strike off of, but are plentiful in the outdoors.
Concrete and bricks are also effective if you're in a more populated area.
Sandpaper is very similar to a regular striking surface and is one of the easiest methods. However, you might not be carrying sandpaper around with you.
What Is The Best Method To Light Matches When You Don't Have The Box?
There isn't any single best method of lighting a match, and some of these ways are very situational. The best way to light a match is with the proper striking strip on the box.
However, if you're caught out without the strip you might need to improvise a bit.
Using a similar surface to a matchbox is one of the best methods, so using sandpaper or an abrasive stone is a great alternative striking surface.
But if you don't have these materials or a dry surface, you won't be able to strike the match
If that's the case, using a fingernail or other matches (as long as they're dry) will get the job done.
Just bear in mind that these should be your last options – these methods are much less safe due to your finger's proximity to the flame.
Here's a reminder of how to light a match without the box…
Light With Other Matches
Sandpaper
Rocks
With Fingernail
Rough
Building Material
I am an independent safety and survival expert and consultant. I have over 15+ years of experience working with corporations and individuals to help identify, remediate and prepare for threats and and disasters. I help clients understand risks and blog about my thoughts and techniques at DisasterShelters.net
Last update on 2023-09-26 / Affiliate links / Images from Amazon Product Advertising API